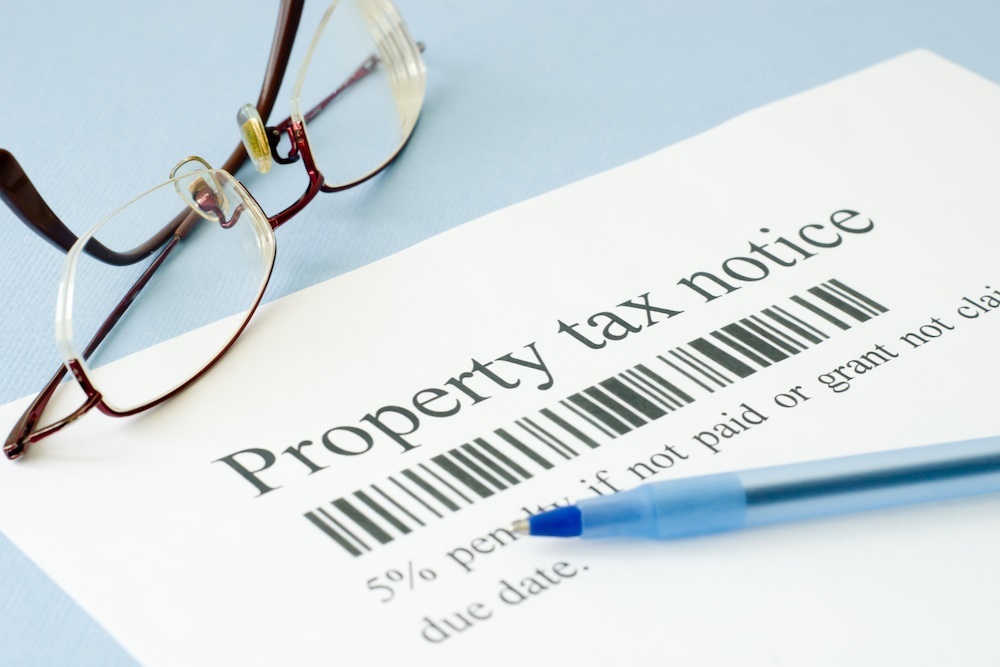 With an effective property tax rate of 3.99 percent, Westmoreland County in Pennsylvania has the highest tax rate among U.S. counties, according to an ATTOM Data Solutions analysis of property taxes levied on single-family homes.
The data shows Westmoreland County has 119,472 single-family homes with an average estimated value of about $57,500. The average tax amount is nearly $2,300. The effective tax rate is the percentage of a home's value the owner pays in property taxes.
In addition to Pennsylvania, New York and Illinois had counties ranked in the top five for effective property tax rates. In the No. 2 through No. 5 spots were Allegany County, N.Y. (3.85 percent), Sullivan County, N.Y. (3.83 percent), Bureau County, Ill. (3.64 percent) and Orleans County, N.Y. (3.5 percent).
Counties with highest property tax rates
| | | | | | | |
| --- | --- | --- | --- | --- | --- | --- |
| County | State | Population | Number of Single Family Homes | Average Estimated Value | Average Property Tax Amount | Effective Property Tax Rate |
| Westmoreland | Pennsylvania | 361,251 | 119,472 | $ 57,518 | $ 2,295 | 3.99% |
| Allegany | New York | 48,070 | 11,514 | $ 74,094 | $ 2,855 | 3.85% |
| Sullivan | New York | 76,330 | 25,923 | $ 145,410 | $ 5,572 | 3.83% |
| Bureau | Illinois | 34,115 | 11,821 | $ 85,027 | $ 3,092 | 3.64% |
| Orleans | New York | 42,204 | 11,783 | $ 233,446 | $ 8,164 | 3.50% |
| Camden | New Jersey | 511,998 | 162,496 | $ 198,818 | $ 6,767 | 3.40% |
| Cortland | New York | 49,043 | 11,171 | $ 125,808 | $ 4,044 | 3.21% |
| Winnebago | Illinois | 290,439 | 82,399 | $ 105,871 | $ 3,380 | 3.19% |
| Salem | New Jersey | 65,120 | 20,899 | $ 174,082 | $ 5,547 | 3.19% |
| Gloucester | New Jersey | 290,298 | 86,864 | $ 219,133 | $ 6,956 | 3.17% |
| Broome | New York | 198,093 | 51,904 | $ 122,910 | $ 3,866 | 3.15% |
| Beaver | Pennsylvania | 169,785 | 57,442 | $ 90,783 | $ 2,850 | 3.14% |
| Luzerne | Pennsylvania | 320,095 | 98,256 | $ 117,969 | $ 3,696 | 3.13% |
| Coles | Illinois | 53,037 | 17,308 | $ 83,428 | $ 2,606 | 3.12% |
| Monroe | Pennsylvania | 167,881 | 63,624 | $ 153,926 | $ 4,762 | 3.09% |
| Monroe | New York | 749,356 | 212,024 | $ 157,616 | $ 4,780 | 3.03% |
| Orange | New York | 375,384 | 84,245 | $ 260,806 | $ 7,907 | 3.03% |
| Starr | Texas | 62,648 | 15,859 | $ 88,302 | $ 2,673 | 3.03% |
| Kendall | Illinois | 120,036 | 32,763 | $ 219,228 | $ 6,474 | 2.95% |
| Wyoming | New York | 41,446 | 10,194 | $ 109,076 | $ 3,176 | 2.91% |
| Warren | New Jersey | 107,226 | 35,048 | $ 241,473 | $ 7,029 | 2.91% |
| De Kalb | Illinois | 104,345 | 27,612 | $ 171,276 | $ 4,934 | 2.88% |
| Saint Lawrence | New York | 112,011 | 26,219 | $ 93,169 | $ 2,668 | 2.86% |
| Cattaraugus | New York | 78,962 | 22,987 | $ 98,995 | $ 2,824 | 2.85% |
| Genesee | New York | 59,458 | 15,484 | $ 121,353 | $ 3,461 | 2.85% |
| Wayne | New York | 92,416 | 26,704 | $ 136,502 | $ 3,863 | 2.83% |
| Sussex | New Jersey | 145,930 | 54,087 | $ 269,688 | $ 7,631 | 2.83% |
| Mchenry | Illinois | 307,357 | 104,813 | $ 226,028 | $ 6,383 | 2.82% |
| Passaic | New Jersey | 507,574 | 113,920 | $ 349,393 | $ 9,813 | 2.81% |
| Schenectady | New York | 154,796 | 46,663 | $ 196,930 | $ 5,479 | 2.78% |
| Kane | Illinois | 524,886 | 134,636 | $ 235,772 | $ 6,517 | 2.76% |
| Burlington | New Jersey | 450,556 | 134,624 | $ 262,898 | $ 7,200 | 2.74% |
| Milwaukee | Wisconsin | 955,939 | 99,004 | $ 117,748 | $ 3,220 | 2.73% |
| Rensselaer | New York | 159,900 | 37,388 | $ 186,044 | $ 5,075 | 2.73% |
| Rockland | New York | 320,688 | 59,129 | $ 474,408 | $ 12,924 | 2.72% |
| Cayuga | New York | 79,173 | 18,830 | $ 130,803 | $ 3,562 | 2.72% |
| Orange | Vermont | 28,929 | 11,717 | $ 174,375 | $ 4,723 | 2.71% |
| Lake | Illinois | 702,898 | 199,165 | $ 332,413 | $ 8,990 | 2.70% |
| Cumberland | New Jersey | 157,035 | 43,310 | $ 156,214 | $ 4,213 | 2.70% |
| Peoria | Illinois | 187,112 | 62,246 | $ 123,518 | $ 3,330 | 2.70% |
| Carbon | Pennsylvania | 64,634 | 19,104 | $ 118,951 | $ 3,174 | 2.67% |
| Union | New Jersey | 548,744 | 135,583 | $ 409,252 | $ 10,863 | 2.65% |
| Chautauqua | New York | 132,646 | 40,127 | $ 117,800 | $ 3,112 | 2.64% |
| El Paso | Texas | 831,095 | 197,926 | $ 141,007 | $ 3,711 | 2.63% |
| Cowley | Kansas | 36,079 | 12,128 | $ 92,341 | $ 2,428 | 2.63% |
| Chenango | New York | 49,549 | 12,121 | $ 97,315 | $ 2,559 | 2.63% |
| Mercer | New Jersey | 370,212 | 109,245 | $ 318,889 | $ 8,342 | 2.62% |
| Sullivan | New Hampshire | 43,135 | 12,594 | $ 216,208 | $ 5,645 | 2.61% |
| Ulster | New York | 181,300 | 48,695 | $ 236,491 | $ 6,147 | 2.60% |
| Essex | New Jersey | 791,609 | 153,263 | $ 458,661 | $ 11,878 | 2.59% |
| Jackson | Illinois | 59,534 | 15,530 | $ 96,322 | $ 2,491 | 2.59% |
| Atlantic | New Jersey | 275,376 | 97,031 | $ 255,112 | $ 6,593 | 2.58% |
| Kankakee | Illinois | 112,221 | 35,735 | $ 136,904 | $ 3,537 | 2.58% |
| Tioga | New York | 50,199 | 14,339 | $ 122,886 | $ 3,161 | 2.57% |
| Burnet | Texas | 44,144 | 16,677 | $ 245,971 | $ 6,307 | 2.56% |
| Windsor | Vermont | 56,150 | 25,524 | $ 248,317 | $ 6,363 | 2.56% |
| Putnam | New York | 99,488 | 30,302 | $ 374,954 | $ 9,591 | 2.56% |
| Rock Island | Illinois | 147,161 | 52,001 | $ 111,690 | $ 2,855 | 2.56% |
| Henry | Illinois | 49,883 | 19,842 | $ 103,580 | $ 2,639 | 2.55% |
| Cheshire | New Hampshire | 76,430 | 14,950 | $ 207,073 | $ 5,269 | 2.54% |
| Caledonia | Vermont | 31,012 | 11,839 | $ 149,568 | $ 3,785 | 2.53% |
| Knox | Illinois | 52,112 | 18,551 | $ 81,723 | $ 2,055 | 2.51% |
| Fort Bend | Texas | 658,331 | 187,892 | $ 293,540 | $ 7,381 | 2.51% |
| Oswego | New York | 121,183 | 31,466 | $ 112,160 | $ 2,815 | 2.51% |
| Strafford | New Hampshire | 125,273 | 23,116 | $ 262,577 | $ 6,587 | 2.51% |
| Livingston | Illinois | 37,689 | 10,877 | $ 104,580 | $ 2,619 | 2.50% |
| Lucas | Ohio | 436,261 | 131,663 | $ 116,825 | $ 2,919 | 2.50% |
| Windham | Vermont | 43,858 | 21,289 | $ 218,189 | $ 5,431 | 2.49% |
| Mclean | Illinois | 173,114 | 50,642 | $ 171,428 | $ 4,217 | 2.46% |
| Montgomery | New York | 49,779 | 14,453 | $ 120,283 | $ 2,952 | 2.45% |
| Macon | Illinois | 109,193 | 40,329 | $ 98,251 | $ 2,405 | 2.45% |
| Whiteside | Illinois | 57,525 | 20,749 | $ 94,370 | $ 2,308 | 2.45% |
| Cuyahoga | Ohio | 1,263,189 | 359,506 | $ 156,415 | $ 3,818 | 2.44% |
| Woodford | Illinois | 39,106 | 11,983 | $ 164,074 | $ 4,002 | 2.44% |
| Boone | Illinois | 53,851 | 15,293 | $ 168,362 | $ 4,104 | 2.44% |
| Dutchess | New York | 296,928 | 75,296 | $ 289,662 | $ 7,030 | 2.43% |
| Tompkins | New York | 103,855 | 18,228 | $ 231,516 | $ 5,615 | 2.43% |
| Racine | Wisconsin | 194,895 | 23,552 | $ 134,356 | $ 3,257 | 2.42% |
| Hunterdon | New Jersey | 126,250 | 43,388 | $ 387,881 | $ 9,394 | 2.42% |
| Berks | Pennsylvania | 413,965 | 93,490 | $ 191,996 | $ 4,649 | 2.42% |
| Merrimack | New Hampshire | 147,262 | 33,753 | $ 263,352 | $ 6,375 | 2.42% |
| Franklin | New York | 51,280 | 12,271 | $ 124,749 | $ 2,996 | 2.40% |
| Saint Clair | Illinois | 267,029 | 76,650 | $ 126,432 | $ 3,034 | 2.40% |
| Ogle | Illinois | 52,397 | 16,059 | $ 125,663 | $ 3,012 | 2.40% |
| Clinton | New York | 81,685 | 20,522 | $ 144,344 | $ 3,458 | 2.40% |
| Westchester | New York | 967,315 | 165,137 | $ 718,858 | $ 17,179 | 2.39% |
| Indiana | Pennsylvania | 87,895 | 24,659 | $ 109,821 | $ 2,614 | 2.38% |
| Hartford | Connecticut | 896,943 | 200,867 | $ 264,478 | $ 6,294 | 2.38% |
| Will | Illinois | 683,995 | 225,077 | $ 233,701 | $ 5,554 | 2.38% |
| New Haven | Connecticut | 862,224 | 185,679 | $ 272,062 | $ 6,451 | 2.37% |
| Lee | Illinois | 35,027 | 11,776 | $ 101,820 | $ 2,410 | 2.37% |
| Middlesex | New Jersey | 830,300 | 207,467 | $ 355,697 | $ 8,413 | 2.37% |
| Northampton | Pennsylvania | 299,616 | 95,423 | $ 211,280 | $ 4,978 | 2.36% |
| Armstrong | Pennsylvania | 67,979 | 20,370 | $ 101,041 | $ 2,374 | 2.35% |
| Harris | Texas | 4,356,362 | 1,045,594 | $ 262,451 | $ 6,159 | 2.35% |
| Coos | New Hampshire | 31,870 | 12,243 | $ 129,427 | $ 3,027 | 2.34% |
| Lackawanna | Pennsylvania | 213,459 | 57,306 | $ 134,654 | $ 3,133 | 2.33% |
| La Crosse | Wisconsin | 117,048 | 11,440 | $ 144,127 | $ 3,353 | 2.33% |
| Sangamon | Illinois | 199,016 | 69,985 | $ 133,200 | $ 3,089 | 2.32% |
| Montgomery | Illinois | 29,348 | 10,774 | $ 68,790 | $ 1,589 | 2.31% |
Source: ATTOM Data Solutions